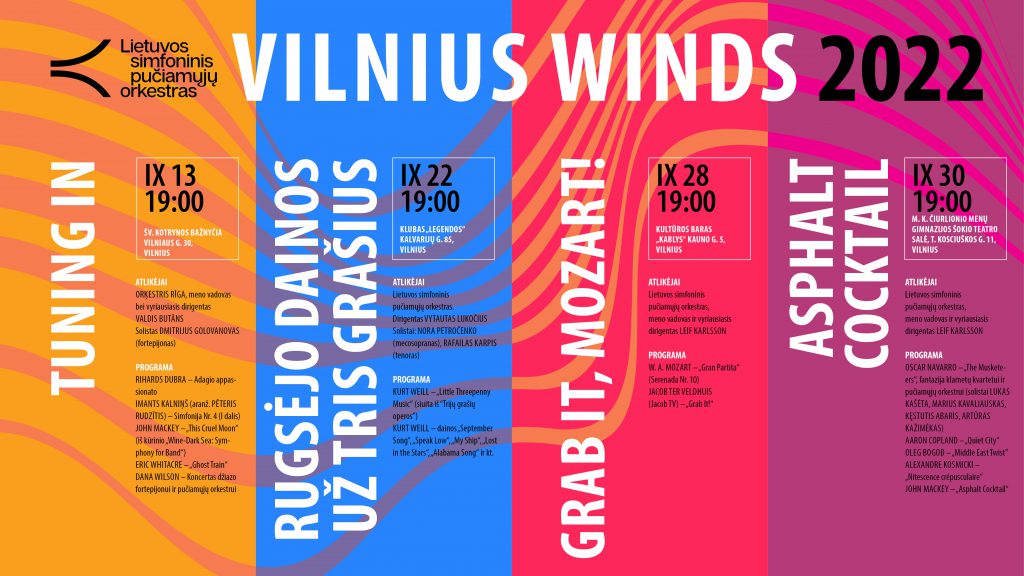 Vilnius Winds is the first brass band music festival to be organised in Lithuania. It aims to conceptually present previously unheard or less frequently performed works, contemporary interpretations of classics, and also experimental projects. The geographical identity contained within the name of the festival, is an attempt to put our country on the map of international brass band culture. Wind represents the brass band sound, but it can also be interpreted as a playful metaphor for the present time, as the whirlwind of post-modernity, styles and genres mix, and old forms emerge in a new light. It is no secret that for many years brass bands in Lithuania have been associated with entertainment, representative functions or outdoor events, confirming the stereotype for this kind of music. However, when one considers the extremely vibrant and multifaceted brass band culture in the West, it is obvious that this genre—which has successfully established itself in the realms of both contemporary concert music and interdisciplinary projects—is by no means inferior in impact to that of a symphony orchestra.
The organiser of the festival, the Lithuanian Symphonic Wind Orchestra (until 2022, the former State Wind Orchestra, Trumpet), by purposefully representing the symphonic wind genre, fills this new niche in Lithuania: it prepares concert programmes, works closely with renowned Lithuanian and foreign soloists (Petras Geniušas, Daumantas Kirilauskas, Liudas Mockūnas, Anders Paulsson, etc.), composers (Zita Bružaitė, Žibuoklė Martinaitytė, Jonas Tamulionis, etc.), music publishers and educational projects. Newer forms are also not alien to it, juxtaposing styles that might seem distant at first sight, like Cali-Gari Cinematorium by Algirdas Martinaitis and work from the electronic music composer Leonas Somovas.
The orchestra's ambitious drive to be modern and contemporary is reflected in the interdisciplinary direction of the festival's concert programmes. In traditional and unexpected concert spaces, a dialogue with the past draws on new points of contact with modern art forms: Mozart meets rap (the Grab it, Mozart! programme), musketeers from the time of Louis XIII fight with the rhythms of the American metropolis (the Asphalt Cocktail programme), jazz and the repertoire of the symphony wind orchestra will merge in a concert with the guests of the festival from Latvia, the Orķestris RĪGA (the Tuning In programme), and last but not least, the orchestra and Kurt Weill will alternate between theatre and vaudeville, opera, cabaret, and operetta during the September Songs for a Threepenny programme. So, we would like to wish the festival guests the great experience of a fresh breeze of brass!
Director of the Lithuanian Symphony Wind Orchestra – Prof. Dr. Antanas Kučinskas